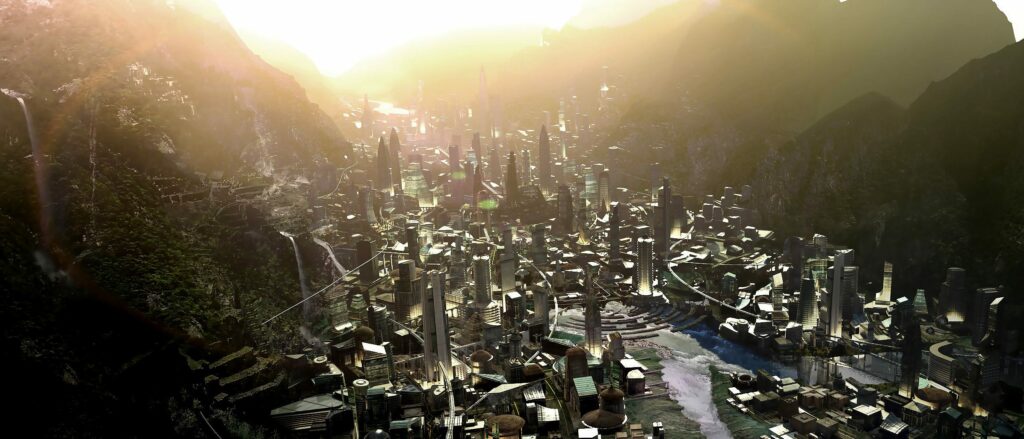 Current narratives on climate crisis in art are anti-technology and anti-human. This is a colonial mindset explains Shayna Robinson.
One day last fall during the middle of the coronavirus lockdown in Washington, I had the sneaky pleasure of visiting the Smithsonian American Art Museum. The museum holds one of the largest collections of American art from the American colonial period to now.
On the second-floor lobby is a painting that stops me in my tracks. It spans the entire wall, depicting a submerged metropolis, ravaged by industry with a sky set ablaze.
On closer inspection I could see more abundant animal and marine life. An eel slithers by to the left, a large bird flies overhead, but not a single human is there, only artificial remnants, a suggestion of what once was, a cautionary tale on the dangers of technological progress.
The painting, Manifest Destiny, was made by a white American man, Alexis Rockman, in 2004. Manifest Destiny takes its name from an American colonial ideology and reflects a mindset that resulted in the genocide of Indigenous peoples and communities in America. 

It makes sense then that Manifest Destiny reflects the dominant climate narrative pointing the finger at technological advance and modernization as the source of our eventual hot death. The narrative erases how the climate crisis actually impacts those of us who are most vulnerable and most marginalized in society.
On the Smithsonian American Art Museum website, the piece is described at the time of its acquisition as "the perfect summation of Rockman's intense probing of the natural world, and the unnatural things that man has done to that world since the age of industry." This is not a narrative of empowerment rather a shaming one. It is a narrative that will only resonate with men who are responsible for self-imposing climate doom and alienates those of us who feel powerless to name and address the problem: colonialism and capitalism.
This narrative is not new. In an article from the Earth Island Journal, Esme G. Murdock argues, this narrative is "actually an outcome of technologies we have chosen to design and implement that facilitate a distance between our natural environments and ourselves." This choice embraces a colonial mindset. It drives a narrative about climate change that centers anti-environment and anti-human ideology recreating cultural violence and oppression.
I felt desperate and vulnerable and confused by what I saw because Manifest Destiny does not account for nor reflect my humanity in its narrative. Instead, I am beyond marginal, I am erased and so too is the land of which my humanity is a part.
In thinking about myself, my relationship to the environment, and how technology can represent that relationship another piece of art comes to mind. In Think South: Reimagining the Internet, a quadriptych is presented. The images are inspired by Hombre Constructivo by Uruguayan artist Joaquin Torres-Garcia who's work largely represented a fusion of indigenous cultural representations from the Americas and European modernist abstract art. The four figures have embedded within them a historic and, at the same time, contemporary graphic language that starts a conversation about the stuff we're made of. 
There are simple icons of the earth's elements, some plants, and small animals; and there are also detailed drawings of automobiles and cameras. Each figure has a complexity that allows it to sidestep stereotypes while still remaining familiar. They are universal and as such acknowledge my humanity in a way that gives new meaning to the possibility of technological progress. They also teach me how to internalise that possibility which helps bridge the gap between me and a more sustainable future.
The other problem with Manifest Destiny is that it doesn't reflect the future I imagine when I think about the ways in which technology can lead to sustainable liberation.
In the line of Afrofurtuist writers – the potential we have for the future looks more like Wakanda!
The world of Wakanda from Black Panther is an antidote to Manifest Destiny. It decolonizes the narrative set forth in Manifest Destiny. Directed and starring Black people from the African diaspora, the film follows the comic book King T'Challa working to protect his homeland, Wakanda, a fictional place untouched and protected from the resource extraction and exploitation of Westerm colonialism and capitalism. Afrofuturist Wakanda confronts the epistemic injustice that Manifest Destiny perpetuates by offering alternative knowledge about a world in which one of the universe's most valuable resources is responsibly, peaceably, respectfully and dutifully maintained by Africans.
Taking its name from a political party that stands in defense of Black life in America, Black Panther reflects a futuristic narrative that is culturally responsive and is entrenched in a critical awareness of the importance of protecting the planet. Humanity can be a guardian and steward of the planet, rather than a dominator. In Wakanda, technology is a force for good in harmony with the environment…
The depiction of Wakanda in Black Panther is speculative in a way that boldly promotes the idea that the solutions to our greatest climate challenges rest in communities that are invisible to some of us. It further brings into view the idea that traditional and modern practices and technologies have been used by Indigenous peoples to protect the Earth for centuries. Wakanda conjures new futures that are inclusive and progressive in a way that centers everyone and everything that needs centering.
Thinking about Manifest Destiny, the Hombre Constructivo quadriptych, and Black Panther side by side is a jolting exercise for me.
But more importantly, thinking about Hombre Constructivo and Black Panther amplifies the need for diverse voices, marginalized perspectives, and invisible communities to manifest a truly sustainable technological future in which we not only survive but thrive in harmony with each other and the environment.
Authors
Shayna Robinson is a futurist and tech environmentalist. Shayna embodies this through her work as Program Officer at the Internet Society Foundation where she leads the Research, BOLT and RARE Grant Programmes.