Maintaining a vibrant creative practice is an essential part of my work as the leader of an organization that works to address big problems like digital equity, the preservation of history, and soon, the climate crisis as it relates to our cultural heritage. By pairing traditional work that is measured in hours, days, and fiscal quarters with intentionally slow, process-driven crafts I am able to engage in a generative approach to the discovery of unique solutions to complex problems.
At work, when I am considering a new program area that is meant to help our network of hundreds of libraries and archives, I have to engage in a slow, multi-layered process that ensures that the work is responsive to the needs of many organizations, and that our entire staff is heard, engaged, and feels ownership and pride in everything we do. Similarly, when I take two years to transform a scavenged piece of wood into a refined object representing an idea, I make room for the process to alter the original concept.
Over the course of imagining a design concept and crafting a solution, the material itself may respond differently to environmental conditions, I may read a new book or article, I may make a mistake, or there may be a flood or a fire or a global pandemic. This approach brings me closer to the subtle, intricate, and complex natural processes that we all contribute to and are immersed within, and it helps me to apply these processes to all aspects of my life.
One of the greatest challenges our planet is faced with is that much of the human species somehow believes they are separate from, superior to, or not part of the natural world, and that these systems are somehow manipulable by us rather than a complex, balanced set of rules that we all must respect, listen to, and work within. Slowness helps me to listen. It helps me understand my own place, and it shows me what I can influence and what I should allow to influence me.
The pictures below reveal the process and some of the byproducts of me making a wooden box sculpture named Hemerocallis. While making that piece, I produced sawdust that was added to my compost, I grew a tomato in that compost, I heated my home with the scrap wood, I learned more about how heating with wood affects my wooden sculptures that are sitting in that very hot and dry room, and I adjusted my construction process as a result. The Hemerocallis box joins three hidden interior compartments within a single organic structure, with the entire piece referencing a geologic formation. The interiors are more private and personal spaces, but the landscape binds them together as a whole.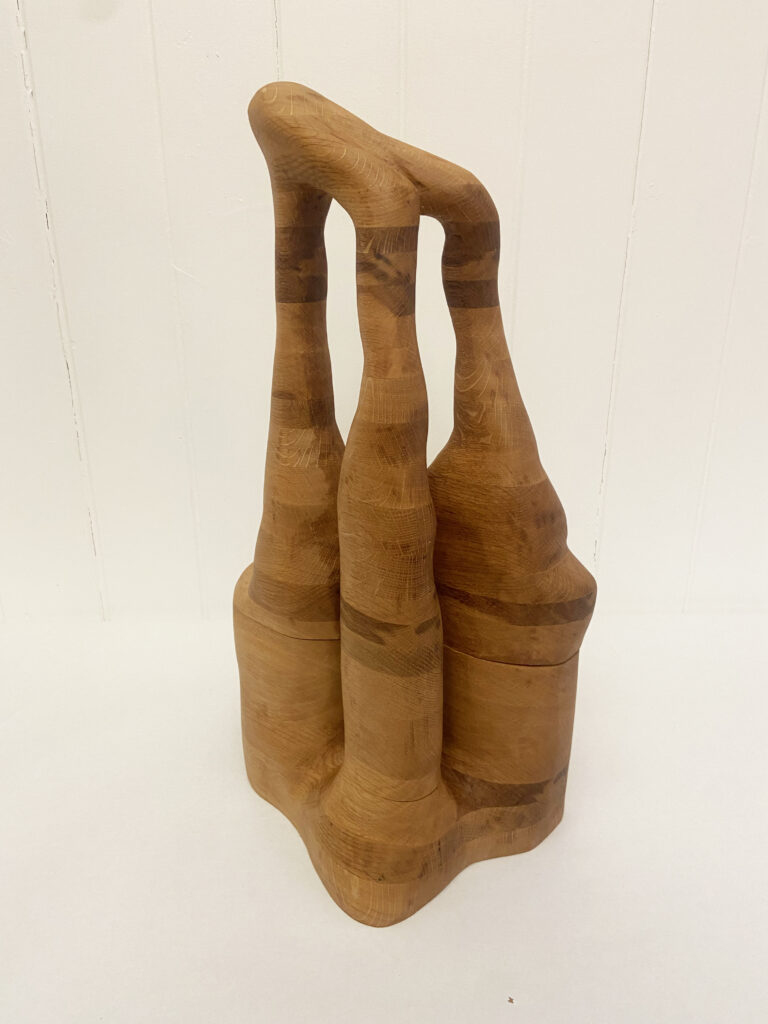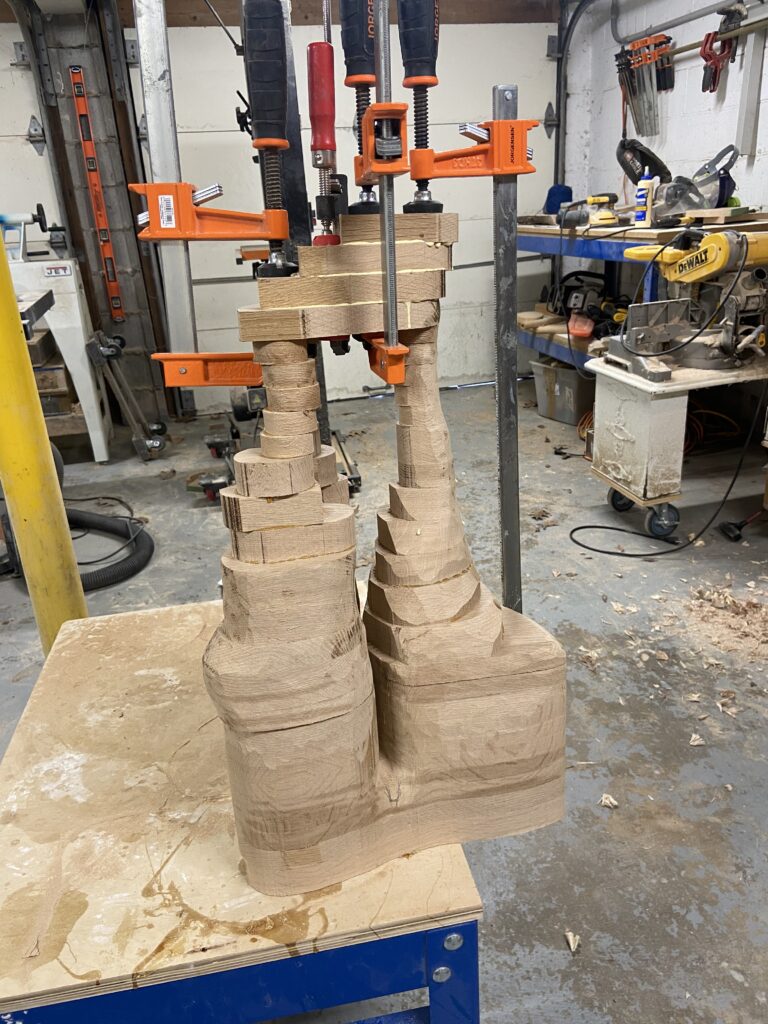 The carved plywood panels pictured below are another example of how I allow my process to dictate the eventual outcome. They are made lovingly with a handheld grinder and not with a computer-aided router. I call them Margulis Panels because they are inspired by the work of the biologist Lynn Margulis, who discovered and popularized the concept of endosymbiosis. The process by which these panels are made explores growth, combination, and mergers of form. I lay out circles at random, overlap them, join them, and then begin to carve. In the process a new form emerges, one that is rooted in the origin shapes but has also taken on a new life of its own.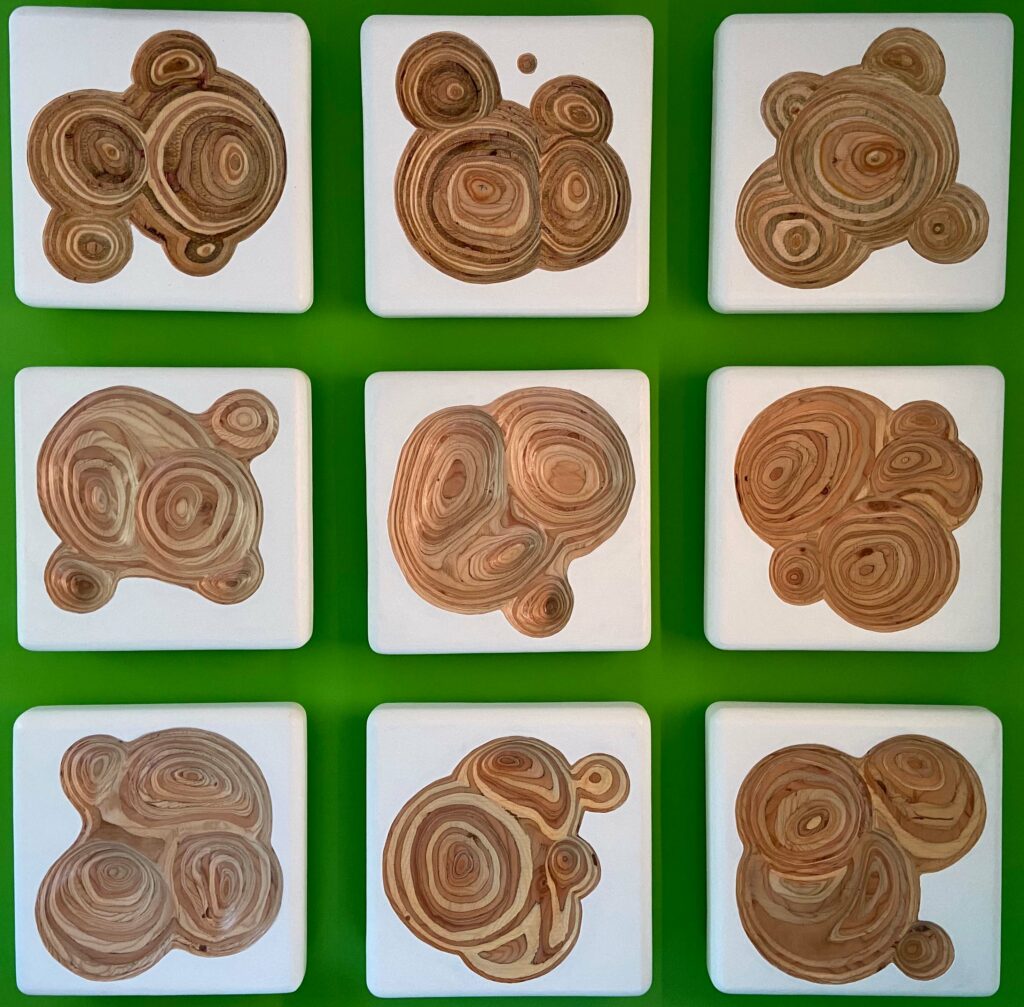 Lithops is a series of stacked plywood lamps, all of which are only available in communities of 3, 5, 7 and other prime numbers as a nod to cicada populations' genius ability to avoid overlap in their periodic emergence through statistics and probability. Like the Hemerocallis box, these lamps are meant to have a special, more private interior while the exterior presence evokes an architectural envelope, carapace, or membrane. The lit interiors connect these private spaces through visual metaphor: they are all organic routers connecting to an imaginary, living network. Currently people own Lithops in New York, California, and Florida, and I like to imagine they now all live in a network of connected homes. But what kind of connection? Lithops certainly could all have electronics included within them and this could be a literal connection, but the omission of that functionality leaves room for a more playful and theoretical exploration of what connection could be.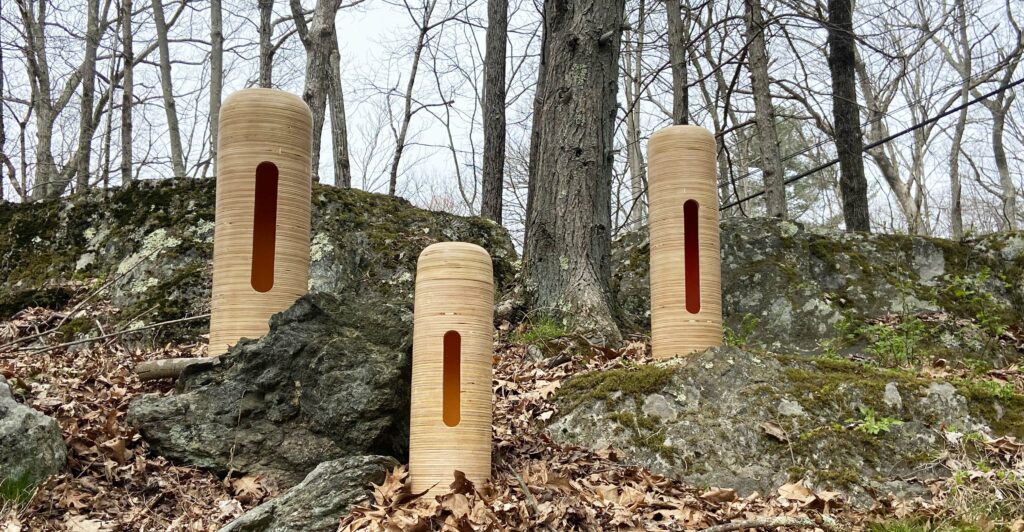 To first imagine and then realize a more positive future for our planet, I believe we all need to slow down, be mindful, truly observe and interrogate natural processes, and then incorporate them into the way we approach everything we do. In the engineering field, inventors borrow natural structures and apply them to products, machines, and buildings. As a leader at the helm of a nonprofit organization, observing natural processes gives me inspiration and guidance as I consider organizational structure, the sustainability and growth of new or existing program areas, and the speed and priorities at which different tasks should be done. Looking to the natural world to influence structure is insufficient: we should look to the natural world to inform and inspire all of our processes and our posture as well. The manner in which this article was written offers a final example; thank you to the Branch editorial crew for an open and transparent process, for the opportunity to communicate with other writers, and thank you for the feedback and the narrative iteration.
About the Author
Nate Hill is the Executive Director of the Metropolitan New York Library Council. You can see more of the things he makes at natehill.net.