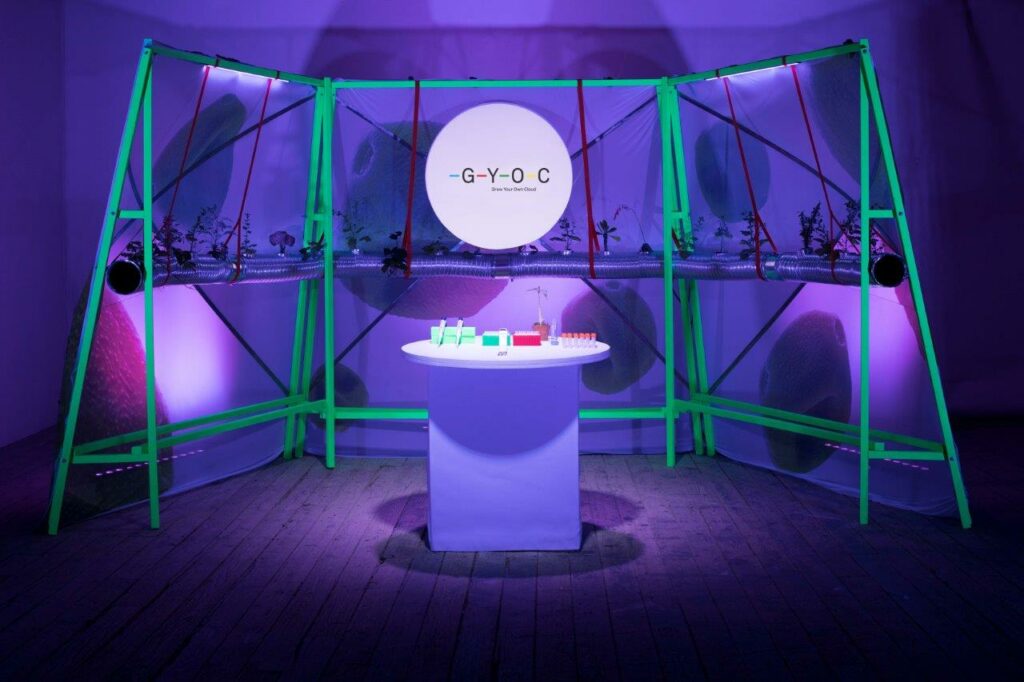 Data Garden is a carbon negative data infrastructure that promotes unification between people, living systems and technology.
The installation features plants and liquid DNA encoded with data. The encoding process involves converting digital data such as text, JPEGs and MP3s into a biological format, DNA, using ACGT rather than binary.
Continuing the approach of Grow Your Own Cloud, working with nature to alleviate the threat of 'data warming', the Data Garden invites visitors to experience a new materiality around data, and explore a world in which data storage is truly green, and exists as an accessible public resource that is shareable within communities.
Grow Your Own Cloud (GYOC) re-imagines the carbon emitting data cloud by storing data nature's way, in the DNA of living organisms. The initiative seeks to create a new type of cloud, one that is organic, rather than silicon, and which emits oxygen rather than CO2. This involves state of the art DNA data science, a technology which has the potential to store all of the world's data in just 1 kg of DNA.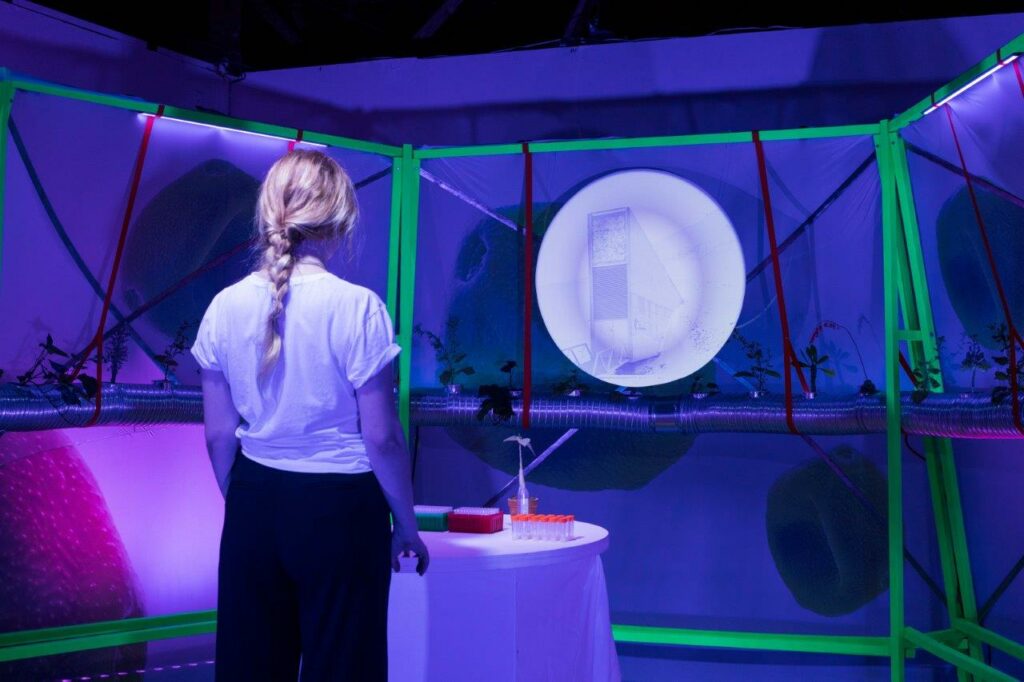 The latest implementation of the project is a contemporary Data Garden, an installation in which plants' DNA is encoded with data and made available for real-time decoding, using the latest genetic sequencing technologies. Decoded information is displayed in the Data Garden revealing the hidden messages contained within the plants.
The installation is composed of readily available natural materials, and designed to be simple to construct. It emphasizes data as a collective resource, positioning it at a local, community scale, rather than the highly individual or highly globalized scales that current data storage solutions typically exists at.
While Grow Your Own Cloud began as a speculative examination of possible data futures, the work has now progressed towards a true art-science collaboration. In this manner, the current state of the art informs the design and creativity process, while the art itself seeks to push the boundaries of what the science and technology can deliver.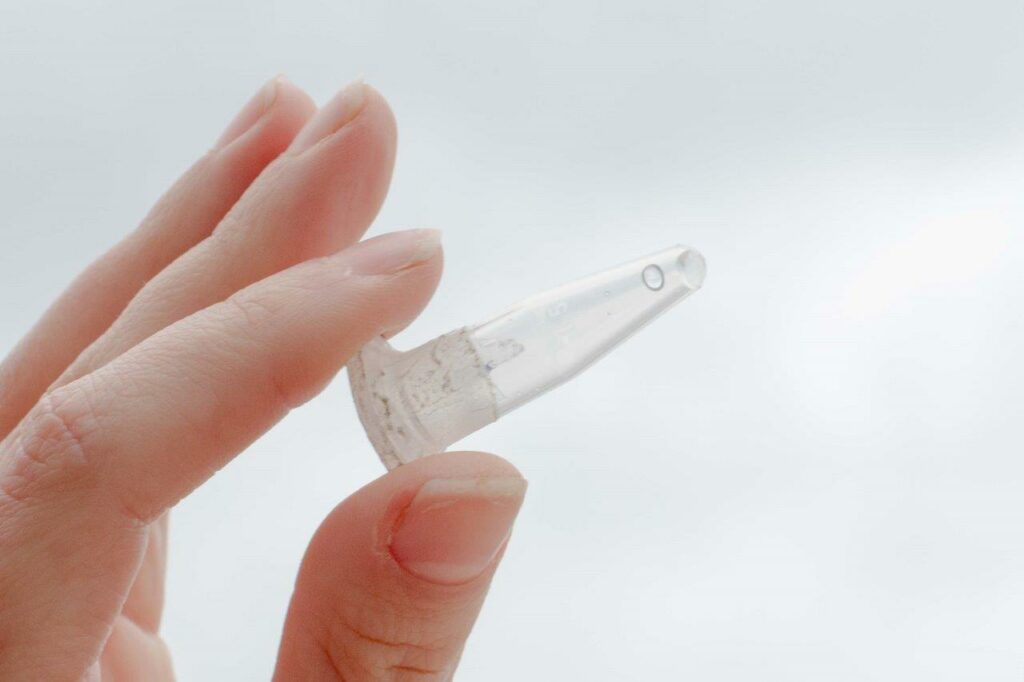 For the Data Garden, Jeff Nivala, a research scientist at the University of Washington, worked to help develop a novel data decoding pipeline which would allow the visitors to the Data Garden to effectively download data from the organisms in the installation. This introduces technologies such as genetic sequencers to the general public, technologies which exist on long time horizons and are some way away from general use.
As designers, we worked to create a user-friendly way to interact with these new tools and technologies, to make the experience accessible to people of all backgrounds. The final installation encapsulates important notions inherent to GYOC, offering an alternative, non carbon emitting manner to store data, presenting people with an opportunity to take back ownership of personal data, and working with nature in a new type of collaboration.
The installation is accompanied by a set of posters and a book of ethics, which seeks to provoke a host of responses to some of the questions we have been asking ourselves about the project. In our practice, we consider the ethical dimensions of GYOC at the same time as we imagine the possible forms that GYOC could take once implemented. Specifically, we seek to integrate an ecological ethics such that we consider more than humans, to include the plants, the ecosystems, and the planet, as much as we consider the humans. At the very least, this means better understanding just how much we do or do not consider other entities in many contemporary design and development processes.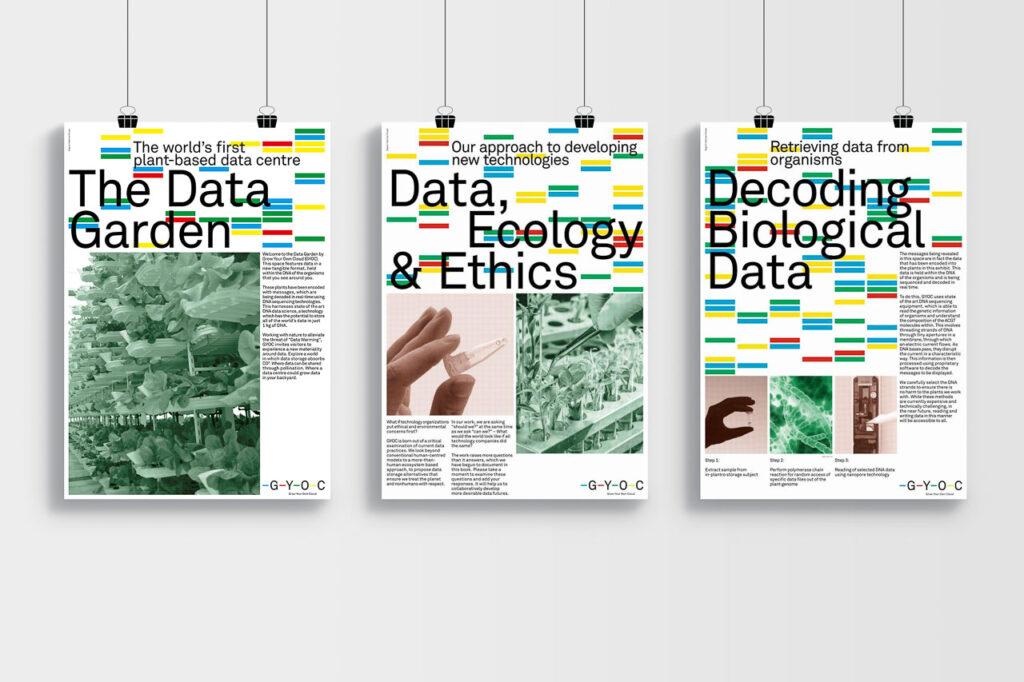 By storing data nature's way, in the DNA of plants, this work discusses the potential for truly green, carbon absorbing data storage, owned by the public rather than monopolistic corporations. It simultaneously probes at the new pressures that arise from biological modification, especially intellectual, ethical and regulatory issues. It encourages reflection around political and environmental concerns pertaining to the cloud, employing the demonstrative power of art and realistic possibilities of design.
We seek to create new types of data infrastructure; typologies which render data is open and available to everyone, create new opportunities for green space, indoors and out, while subverting notions of the privatised digital information economy. These spaces offer citizens an opportunity to tangibly experience communal memories through living organisms, which the community is responsible for and takes care of.
Through initiating these sites of investigation, we research the kinds of data that communities would like to store; historical videos, old languages, musical renditions, or poetic readings. We seek to gain a better understanding of people's relationships towards their data as well as create ethical parameters for developing such technology.
Credits
Created by Cyrus Clarke, Monika Seyfried, and Jeff Nivala.
Architects: ab(Normal). Graphic Design: Kuba Bogacki, Krzysztof Seyfried, Olek Znosko. Ethics Advisor: Annelie Berner. Fabrication Team: Mike Hart, Rachael Starbuck, Ted Carey. Exhibitions and Press: SXSW, Catch, and Roskilde Festival.
The project received support from Unlisted Projects (US), The Museum of Human Achievement (US), Statens Kunstfond (DK), Roskilde Festival (DK), Catch (DK) and The Singer Foundation (US). Special Thanks to Majken Overgaard, Zac Traeger and Dianne Dain